I've had this gadget about a month now, and I must say I just love it! It is an amazing little punch/binder which means you can produce really great mini books and other bound projects.
I've used it for lots of different things so far, and today I finished my favourite yet.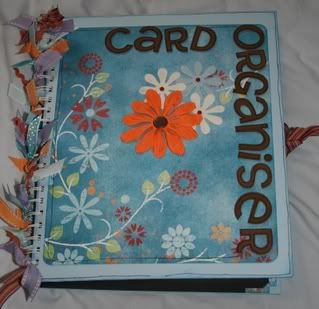 This is a card organiser I made for my friend Sarah. It is made using Fancy Pants papers, which came in my July
Scrapagogo
kit. There is space to record the birthdays etc for each month, and also pockets to keep cards in. I bound it, of course, with the BIA.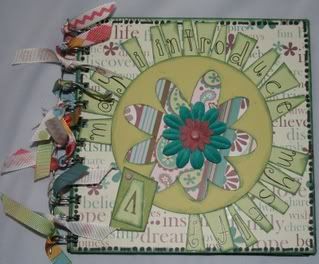 This is a project I have started but have yet to finish. It is a 6x6 book made using the Heidi Grace papers and cardstock from my September Scrapagogo kit. The papers are textured and very tactile, so lovely to work with. I'm planning on taking photographs of things in my life just now to put in the book. When I get round to it lol!
So this is my last week of 'freedom' before I go back to work. My depression is sorted now, and I feel better than I have done in a long time. I am starting to get out more on a social level.
WAY
is still a great support for me, and later this month we are going to Center Parcs Nottigham for the annual WAY meetup. The girls found it hard initially to realise that there are unfortunately lots of other boys and girls who have lost their mummy or daddy. I am hoping friendships will be formed when we are there. No-one quite understands unless they have been there themselves.
Other than that, life is ticking along nicely. My throat has healed amazingly well, and I have more energy now that the constant low level infection has gone. Going back to work will be just fine. After all, I am lucky to only have to work two days a week. Got to watch the pennies, but other than that I will have plenty of time for my lovely girls.
Bye for now
Anna