Finally I have taken some photos of some cards I have made. The light is lousy, so forgive the quality of the images please!
First up, a card for my friend's daughter's 21st birthday, which is next week. I cut the numbers and letters using my Cricut, and all other supplies are from
Craftwork Cards
. The paper is their Enchanted range, and the ribbon is to match. Bling fixed using my new Kandi hot fix thingy.
Next up is a 17th birthday card along the same lines, I love those Enchanted papers!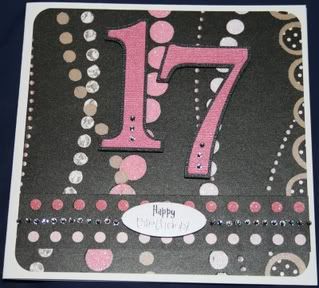 Finally, one of the cards I have made for a swap on the Cricut message boards. On a love theme, I used Bazzil bling cardstock, embossed using a cuttlebug embossing folder, then I cut the word using my Cricut. A red heart button also ties this in with the Papertake weekly challenge, which was to use red on the card. American Crafts ribbon finishes it off. The picture is terrible as bling cardstock does not take kindly to being photographed!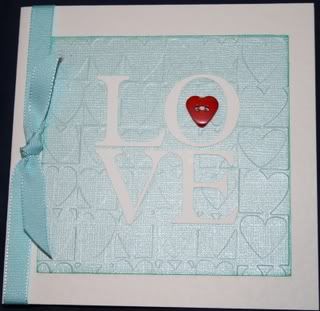 Anyone done a card for the blog candy yet? I know Kazz has and has posted it to her blog, thanks Kazz!