And actually doing some crafting for once! I have been busy blitzing the bomb site which is my house, and I seem to be winning at the moment.
So proof that I have been crafting... two cards I have made. Apologies for the poor quality scans, but I never seem to be home when the light is even vaguely good enough to take photos!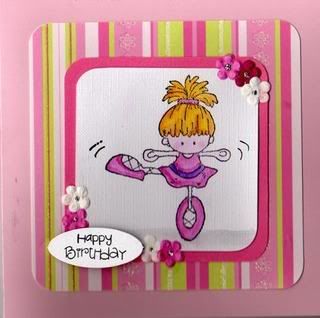 This is for, well tbh I'm not sure! A little girl's birthday of course!
Whippersnapper stamp, DCWV Nana's kids pp, primas, stickled in the centre, Craftwork Cards sentiment and card blank from PDA.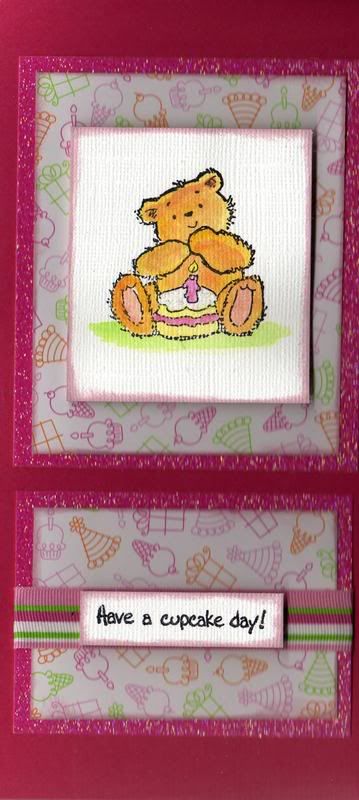 This one has a purpose, it is the first for the birthday club at the Scrapagogo Clubhouse, made using a gogo greetings kit. Was it the October kit? Or November? Not sure lol! Penny black stamp, plus the cupcake greeting from a previous Gogo greetings kit.
Other than attacking the house, not much has been happening here. Oh, we went to see High School Musical on ice, which was amazing! The girls loved it, and I must admit that I quite enjoyed it too. Very well carried out by the skaters, I have a feeling there will be lots of little girls who want to learn to ice skate this year.
My dad is due to have a hip replacement sometime soon, which will mean we will be going up to see him every other weekend. At the moment, mum and dad come down most weekends, so that will be a change. I can't go up there every weekend, not with working and getting the girls to school too, so every other weekend will have to do. Still no date for the op which is a pain.
Enough for now. I'm planning a little giving away of blog candy... watch this space. All you have to do is check back tomorrow and I'll tell you what to do to have the chance to win some gorgeous bits and pieces from my stash! See you then...