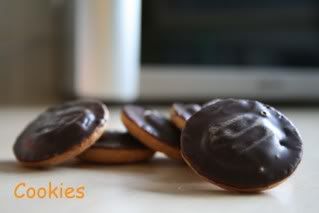 This is my attempt at Anita and Kirsty's prompt over on
Her Space My Space
. Anyway, the word today is cookies. In our house, jaffa cakes rule supreme on the cookie front. We have several other types of cookies/biscuits/whatever you want to call them, but it is the jaffa cakes which always go first. Not even the Pink Panther pink wafer biccies can beat the jaffa cakes!
I actually managed to do some scrapping today. Made me a mini book using some cracking photos taken when I was at uni. I will photograph it later and possibly post a pic...
It felt great to get back into my scrap room and actually have the desire to scrap. Once again my mojo had departed, but it seems to be returning. I have a joiner coming tomorrow to measure up for a purpose built scrapping desk in my new scrap room. I want lots of shelves in there too, so in no time it will be a permanent place for me to scrap. The dining room has been great as a temporary home for now, but once that is clear I am looking forward to being able to go and scrap in the evenings without interruption!
The dining room will become a toy room, and so hopefully my house will look like less of a toy shop. The loft is getting closer to completion every day, and Jim the joiner has been putting door frames in today. Hopefully the sparky will sort out the electrics tomorrow, and then the toilet and washbasin, and the radiators, will go in on Wednesday. Then it's the bannister..... who knows exactly when it will be finished, but in the next week for sure!