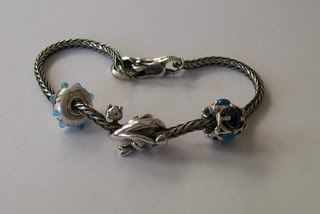 Well I've jumped on the bandwagon and got me a trollbead bracelet. I went up to Newcastle on my own this morning to
this lovely shop
in Jesmond. I chose 3 beads for a start, a silver lucky dragon, a glass bead with silver leaf and turquoise bobbles, and a stone and silver one called wisdom.
It really is very beautiful and I am so glad I went up there and chose it in person.
Some good news.... last night I booked a holiday to Menorca for the girls, my parents and me at May half term. Yippee! Last time we went there I was 17, so we'll see how much it has changed.