So HS:MS has been hijacked this week, and there are suggestions of naughtiness to come... on the blog today are two pictures of bottoms no less! The word prompt for today is LUST. Hmm... interesting prompt as I am not currently lusting after a person, unless you can count Patrick Dempsey, star of Enchanted and Grey's Anatomy!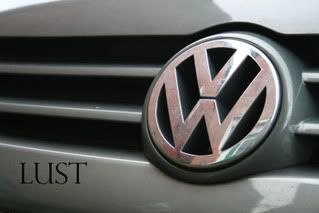 Can you guess what I am lusting after? Two days after Nigel's funeral, I traded both cars in to buy a VW Golf SDi 2.0 litre diesel car. I love this car. I had to get rid of Nigel's car, as I had seen it from a distance that day and my first thought was, "Hooray, Nigel's home early from work."
So my lovely diesel golf came into my life. It is just the best car ever.
However... I am currently lusting after a Golf TDi 1.9 litre. This is a souped up, turbo injected all singing all dancing version of my current car. Just can't quite justify trading mine in when it is so great... a girl can dream, can't she?
So there you go, my current object of lust is a car. If anyone would like to buy me that new Golf, let me know (yeah right).